Ever since I could ever remember, Wilford Jones also known as "Crazy Ray", had graced the stands at the Cowboys games. The first time I remember seeing him, was the first time I ever saw the Cowboys and the Redskins playing each other at the Cotton Bowl (for those of you not old enough to remember or know, where the Cowboys first played).
Through the years I became accustomed to seeing him at just about every game, but sadly enough, Crazy Ray past away this year. I think that it would only be fitting that a moment of silence be held in Ray's memory before the start of the game and that the game be played in his honor. I will be making the same suggestion to folk on DC.com. To me, it is something so minimal, to someone that made the game so memorable to me and so many others.
God Bless Crazy Ray.
Article contributed by Carl Davis aka Mr Cowboy74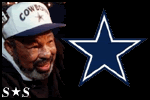 http://lonestarstruck.com/wp-content/uploads/2014/12/posts.png
180
397
Kelly Irvin
http://lonestarstruck.com/wp-content/uploads/2014/12/lonestarstruck.png
Kelly Irvin
2007-11-16 09:41:13
2007-11-16 09:41:13
Remembering Crazy Ray This Weekend