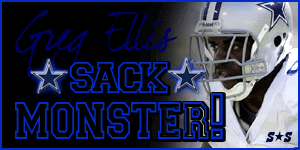 It was announced today that Greg Ellis will join the dozen other Cowboys in Hawaii for the Pro Bowl next month. Ellis will replace the Bears linebacker Lance Briggs on the roster.
It was thought by many that Greg Ellis was snubbed when he was not selected for the Pro Bowl this year. He had a career year and was also named the NFL's Comeback Player of the Year.
This is Ellis' first Pro Bowl selection in 10 years. Congrats!
The 13 Pro Bowl Cowboys
Starters:
WR Terrell Owens
TE Jason Witten
OT Flozell Adams
G Leonard Davis
C Andre Gurode
OLB DeMarcus Ware
K Nick Folk
*QB Tony Romo
**S Ken Hamlin
Backups:
OLB Greg Ellis
S Roy Williams
RB Marion Barber
CB Terence Newman
* – Likely starter for Packers QB Brett Favre, who has announced he will not play in the game.
** – Named as a backup safety but will move into starting lineup for late Redskins safety Sean Taylor.
Info from dallascowboys.com
http://lonestarstruck.com/wp-content/uploads/2014/12/posts.png
180
397
Kelly Irvin
http://lonestarstruck.com/wp-content/uploads/2014/12/lonestarstruck.png
Kelly Irvin
2008-01-29 14:53:47
2008-01-29 14:53:47
Lucky Number 13