According to reports at the Star-Telegram, the Cowboys are expect to start talks with Marion Barber and his agent this week at the NFL Combine. Barber is a restricted free agent that had a very impressive season this past year and looks to make a long term deal with the Cowboys.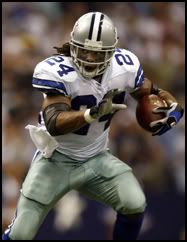 For those of you who remain interested in Darren McFadden, I don't think this is going to happen. The Cowboys have $13 million left in their salary cap and have to take care of their free agents and draft picks. McFadden would cost the Cowboys a lot of money that they just don't have to spend. Stranger things have happened but I don't see it.
Personally, I think the Cowboys should hold on to Marion Barber and draft another running back. They are going to need a backup. Julius Jones is definitely not sticking around and Tyson Thompson did horrible last year, even thought he didn't get much of a chance. I'm not sure how many running backs are available in free agency, I doubt very many good ones. They are definitely hard to come by.
Lock up Barber! Do it NOW!
http://lonestarstruck.com/wp-content/uploads/2014/12/posts2.png
180
397
Kelly Irvin
http://lonestarstruck.com/wp-content/uploads/2014/12/lonestarstruck.png
Kelly Irvin
2008-02-18 12:27:26
2008-02-18 12:27:26
Barber and Cowboys to Talk This Week