Sundays just don't seem the same anymore. The hype has disappeared. Football season seems so short, just as it starts to get interesting, its over. Now we have to wait for spring and summer to pass before we get to enjoy our favorite pastime again.
But think about it…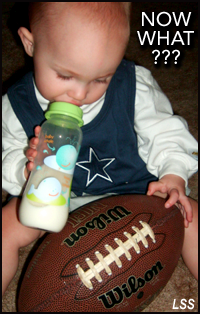 Preseason is in August… Training Camp is in July… then there's mini camps that start as early as May and the NFL Draft in April. So, really we just have to get through the rest of February and March. February is half over now, free agency starts at the end of the month. Hell, by the time you get back from your Spring Break vacation it will be time to start studying the players again! See, nothing to worry about – football will be back in no time at all!
I know, I know… its not the same, but its always been this way. Maybe when you have such a good team you just can't wait to see them out there playing again. Or just maybe when you have a great team that loses in the end when it counts the most, you just want to see them get another shot. Either way, I miss those Cowboys. I can honestly say I don't miss the insane drama the media created for them, or that 'one' girl who presumably jinxed the team with a dream. But I miss the action.
I miss the escape moves pulled off by MB3 & Romo and the nearly impossible bombs that reached the end zone just in the "Nick" of time. I miss Terrell Owens' big smile and his confidence that no one could tarnish. I miss the Helmetless Warrior and the "Ware" wolf and the Sack Monster. I miss hearing old Cowboy stars like Moose, Deion, Emmitt and Troy talk about the Cowboys before a big game, usually defending them when others would express only negative thoughts.
2007 was definitely a memorable year for Cowboys fans. Whether you choose to remember it for the good, the bad or the ugly is up to you. I, for one, will remember the great moments. I'll remember when I first learned Tony Romo got his contract. And when he broke records, left and right. What about when Terrell Owens was named "NFC Player of the Month" last November. Yeah, I know, I'm an optimist. I always have been, and I don't think its a bad thing really. It gets my heart broken every once in a while, but it also keeps a smile on my face and hope in my heart.
LET'S GO COWBOYS!
http://lonestarstruck.com/wp-content/uploads/2014/12/posts5.png
180
397
Kelly Irvin
http://lonestarstruck.com/wp-content/uploads/2014/12/lonestarstruck.png
Kelly Irvin
2008-02-15 11:01:36
2008-02-15 11:01:36
We'll Get Through It, It's Just a Matter of Time