If I ask you which Dallas Cowboy linebacker is popular with the fans, had 14 sacks last season and will be receiving a large contract in the near future, who would that be? The answer is DeMarcus Ware #94!
DeMarcus was born July 31, 1982 in Auburn, Alabama. He attended Auburn High School, which produced other NFL greats like Marcus Washington of the Redskins and New York Giants' Osi Umenyiora. Washington started a celebrity basketball game at the school. All three attend making it quite an event.
DeMarcus's senior year, he won "Most Valuable Wide Receiver", "Most Valuable Linebacker" and "Most Valuable Leadership" awards. His senior season alone, he had 7 sacks!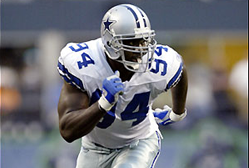 Be-Ware didn't just excel in football. He was a letterman in football, basketball, baseball and track! I still can't get over him playing wide receiver. I would love to see that!
DeMarcus attended Troy University where he majored in Business Information Systems. Where he really excelled, of course, was on the football field.  Ware's senior year he was the League's Defensive Player of the Year, and he was a finalist for the Hendricks Award. He made his mark in Troy history books with 57 tackles for losses.  He finished his college career with amazing stats: 27.5 sacks, 195 tackles, 74 quarterback hurries, 10 forced fumbles, 4 fumble recoveries and 1 interception.
Ware began his NFL career when the Cowboys drafted him in the first round with their 11th pick. He proved to all Cowboy fans that Bill Parcells and Jerry Jones had made the right choice when he went up against the Carolina Panthers offense recording 3 sacks and 3 forced fumbles in one game! Not bad for a Rookie! I think that is the game that fans realized this guy is something special.
In 2006 and 2007, Ware went to the Pro-Bowl, and he also was selected to the All-Pro team. He is the first Cowboy Linebacker named to the All-Pro team since Chuck Howley in 1970. In 2007, Ware also was Co-All Iron Award winner.
DeMarcus had a fantastic year in the 2007 season. Ware became only the second Cowboy to record 14 or more sacks in a season. His stats have improved each year. Staying healthy has certainly helped his total stats, but the rest is talent… and talent alone. In 48 games, he has a total of 215 tackles, 33.5 sacks, 12 forced fumbles, and he has scored 2 touchdowns.
DeMarcus Ware is definitely one of the most popular Cowboys on the team. The fans have respect for him, and he returns the respect by taking the time to spend with his fans anytime he can. He has a myspace page in which he reads his comments. He recently put up his own website and fan club to be more in touch with fans. If you haven't yet, you should check out his website at www.demarcusware94.com. 
I am going to end this with a quote from DeMarcus's website. "When I was young, I was told that I was not big enough and too slow. I worked hard, practiced harder and strived to be the best. Always believe in yourself and you can achieve your dreams." I think he is definitely achieving his dreams so far with the Dallas Cowboys!

http://lonestarstruck.com/wp-content/uploads/2014/12/GalaxyStars.png
180
397
Raina Middleton
http://lonestarstruck.com/wp-content/uploads/2014/12/lonestarstruck.png
Raina Middleton
2008-04-30 08:40:02
2008-04-30 08:40:02
DeMarcus Ware: Beware of DWare