As a member of several Cowboys Blogs and subscriber to every online news that has anything to do with The Cowboys, I have seen lots of Chatter this week.
I thought we should open up a dialogue on all these things going on this week with you Starstruckers. It has been too quiet around here the last few days and I love stirring the pot anyway. (I am reserving my opinion on all of this because I think it would be more fun to hear from all of you.)
ROY WILLIAMS DOESN'T THINK HE FITS WITH THIS DEFENSE. According to what he has said to Greg Ellis, Roy isn't sure he belongs in Wade's defense. Roy's keeping to himself, working out early and leaving at 7:30 am, before his teammates arrive at Valley Ranch. Greg appeared on The Michael Irvin Show after this came out. Greg wanted to express he was Roy's friend and didn't mean to cause him harm by publicly speaking about Roy's dilemma. He says he is concerned about Roy and wants everyone to rally around him and support him. I have seen some really nasty things said by fans about Roy this past week. Really nasty.
T.O. IS ON A SITCOM AND ROMO IS SINGING AT A CUBS GAME. Many, many bloggers are griping that these two aren't focused on their football, especially Romo, because they are appearing everywhere, other than at Valley Ranch.
MOOSE SPEAKS OUT ON TANK JOHNSON but GIVES HIS OK ON PACMAN. Daryl Johnston thought the character of Tank Johnson was questionable and spoke out against the hiring of Tank last season. He says Tank wasn't going to lead the Cowboys to a Superbowl, so he wasn't worth the risk. PacMan however is worth the risk, according to Moose who was quoted as saying "In this era of salary cap management, I like the way that they structured his contract," Moose said yesterday at the Cowboys Golf Club. "Now you've just got to keep your fingers crossed that he's learned from what he's done in the past and the support group within the Dallas Cowboys does its job. But it's a tough decision. It's a roll of the dice. You get tempted by talent".
MARION BARBER and KEN HAMLIN STILL NOT SIGNED. Barber isn't working out with the team and I guess he won't until he's signed. Jerry Jones says "Not to worry". Ok Papa John….I mean Jerry, I won't worry if you say so.
The Cowboys gave Barber a one-year tender of $2.56 million, the highest designation for restricted free agents. Hamlin, who was set to be an unrestricted free agent, received a franchise tag of one-year, $4.33 million.
TONY AND JESSICA……ON OR OFF? Can't resist. Gotta get the tabloid blurb in here. Last week there were reports there were wedding bells. This week there have been numerous reports that it's over. They haven't been spotted together this week but they sure have both been spotted apart……hmmmmm.
Ok Starstruckers…………Talk to me!!!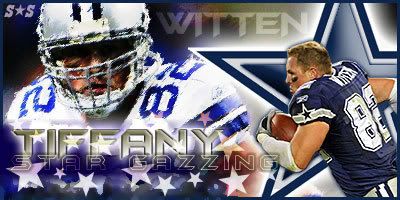 http://lonestarstruck.com/wp-content/uploads/2014/12/posts.png
180
397
Contributing Author
http://lonestarstruck.com/wp-content/uploads/2014/12/lonestarstruck.png
Contributing Author
2008-05-15 15:33:31
2008-05-15 15:33:31
CHATTERBOX