Clint Longley.  Does the name ring a bell? It may not if you're under the age of 30. Because if you're under 30, you never saw Longley play for the Cowboys, although you may have heard about him. Clint's career with the Cowboys was brief, but not without heroics, not without drama, and certainly earns him a place as one of the most fascinating players in Cowboy history.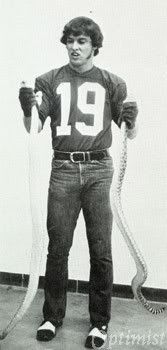 Clint Longley came to the Cowboys in 1974 as a rookie quarterback from Abilene Christian College. Longley quickly earned a reputation for being unpredictable and was maddening for both receivers and defenders alike. Cowboy safety Cliff Harris said, "He looks one way and then throws sidearm in another direction.  In practice, guys pull muscles trying to go where he throws the ball." Longley earned the nickname "Mad Bomber" when one of his wayward passes smacked Coach Landry's tower during training camp. Adding further to Longley's mystique was the fact that his hobby was hunting rattlesnakes in his spare time.
By Thanksgiving Day of 1974, the Cowboys were struggling.  Their record was 6-5 and they were facing the Division leading Redskins on this Turkey Day.  The Boys were flat.  It was one of those rare days when even Staubach didn't seem to have anything.  A Redskin win would guarantee them a Division Championship.  The Skins had already made a boast that they would knock Staubach out of the game, leaving Dallas with only their rookie quarterback (Longley) – and in the Redskins mind, leaving the Cowboys no chance to win the game.
With 9:57 left to go in the third quarter, the Washington boast regarding Staubach proved prophetic, as he was knocked out of the game from a hit by Dave Robinson of the Redskins.  With the Cowboys trailing the Skins by 16-3, Coach Landry quickly turned to Longley saying, "Clint, you're in.  Good luck."
Ummmm.  Redskins, meet the Rookie……
While many fans began to move toward the parking lot and the Redskins began to gloat in an apparent victory, the Mad Bomber took control and proceeded to bomb away.  He completed 12 of 21 passes for 209 yards and two touchdowns.  The game winning touchdown was a 50 yard strike to Drew Pearson with less than 30 seconds left. The Redskins had fallen 24-23 to "the Rookie" and a new hero had emerged in Big D.
Unfortunately for Longley, he faded into the background during the next season (1975), although he did start against the Jets in the final regular season game when Staubach was again injured.  Longley came through again, leading the Cowboys to a 31-21 victory.
During training camp in 1976, The tension was palpable as the Cowboys signed Danny White and it appeared that Longley would be relegated to third string due to White's WFL experience.  After one practice session, Longley made a derogatory remark about Drew Pearson after Pearson dropped one of Longley's passes.  Staubach told Longley that he was getting tired of him talking about people behind their backs and stated, "Somebody is gonna knock those Bugs Bunny teeth of yours in." 
"Are you going to be the one?" Longley said.
Staubach replied, "Yeah, I'd love to do it."
Staubach and Longley agreed to meet at a baseball diamond adjacent to the practice field.  By the time assistant coach Dan Reeves arrived to break up the fight, Staubach had Longley pinned beneath him.
Shortly after this, at another practice session, Staubach had his head down and Longley came up and threw a punch.  Staubach was knocked into a set of scales and received a cut that took several stitches to close.  Longley quickly returned to his dorm room, retrieved his bags (which were already packed), caught a ride to the airport, and was gone.   Needless to say, the Cowboy organization traded Longley almost before the doctor could finish stitching up Staubach.
Longley ended up with San Diego for the rest of the '76 season but eventually drifted away from football and has been reclusive ever since.  He doesn't grant interviews and talks about his playing days with just a handful of former teammates.  Many have speculated on why Longley punched Staubach, with the most popular answer being that he wanted to be traded Remember that his bags were packed before the punch).  We will probably never know unless Longley decides to break his silence and tell us in his own words.   It's been 32 years.  I won't hold my breath for an answer.
Still, it's an intriguing story in Cowboy history.  A relative unknown becomes an instant hero. Shortly thereafter, he becomes an instant villain by punching Captain America.  In refusing to discuss the incident, he has become a 30 year enigma for those of us fascinated with Cowboy history.
Feel free to drop by for a visit at www.myspace.com/dallas_cowboys_nfl or
http://dallascowboysfannetworking.blogspot.com/

http://lonestarstruck.com/wp-content/uploads/2014/12/GalaxyStars.png
180
397
Contributing Author
http://lonestarstruck.com/wp-content/uploads/2014/12/lonestarstruck.png
Contributing Author
2008-05-12 15:45:45
2008-05-12 15:45:45
Clint Longley: The Rise and Fall of the Mad Bomber