All Dallas Cowboys and LoneStarStruck fans, stop skimming the obituaries. Stop endlessly surfing the web for answers. Derek Sanders has not died. He has not been stranded in the wilderness. He has not been washed onto the shores of a desert island. Contrary to popular belief, I am alive and kicking and anxiously awaiting to start of another season of Dallas Cowboys football.
Now I have two Christmases a year marked on my calender. My second Christmas comes in late April, when two days of draft mayhem occur and ultimately make or break a team's success in the coming years. Here is my breakdown of Dallas' 2008 draft picks.
Felix Jones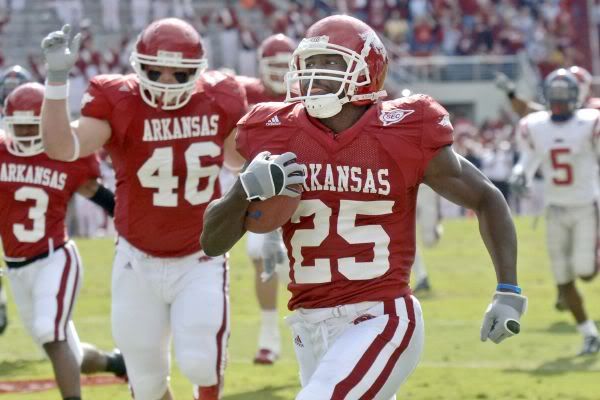 – Running Back, Arkansas
Many fans and analysts had Jones penciled in as one of Dallas' first round picks, and how right they were. Forget all the criticism Mel Kiper and the clowns over at ESPN dished out to the Cowboys for not drafting Rashard Mendenhall. Mendenhall is a big downhill runner and the Cowboys already have that in Marion Barber. Dallas was looking for lightning to match Barber's thunder heading into this year's draft and they certainly got that in Jones. They needed a scat back who they can line up in multiple formations to spread the defense out. Jones has all the speed and open field moves as well as All-American kick returning abilities and will provide Tony Romo with yet another weapon to torch defenses with.
Mike Jenkins – Cornerback, South Florida
If you were glued to your television on draft day as I was, you sort of got the feeling Dallas was looking to nab Jenkins when they traded up three spots in the first round to get him. Even though there were three cornerbacks drafted before him, many had him ranked as the best corner in the draft. Although Dallas lost both Jacques Reeves and Nate Jones in free agency, Jenkins is a definite upgrade and will join a now impressive and crowded secondary. He might not get alot of playing time this year if Pacman Jones is reinstated, but he has all the skills and speed to become a starter for years to come.
Martellus Bennett – Tight End, Texas A&M
A couple hours before the draft day chaos ensued, I wrote down a list of players who I thought Dallas would take a look at. As I jotted down Martellus Bennett's name, I turned to my brother and said "They're gonna draft this guy now that Fasano is gone." The Cowboys got quite an athlete in Bennett, who has a basketball-like frame and exceptional hands and ball skills. He is also an outstanding blocker and should provide the Cowboys with extra blocking beef when they line up in multiple tight end formations. Like Felix Jones, Bennett will add one more weapon to Tony Romo's arsenal of firepower.
Tashard Choice – Running Back, Georgia Tech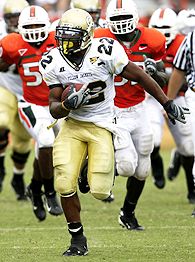 The second day of the draft was filled with classic draft day wheeling and dealing which the Cowboys have become famous for. As I watched Jerry geniusly trade down farther and farther, I received a call from a buddy who was also enjoying Jerry's draft day brilliance. "What the hell is Jerry Jones doing?!" he yelled. We soon saw Jerry's masterful trickery pay off when Tashard Choice's name was called. This could be my favorite pick of the whole draft. With the running back depth dwindling, Dallas drafted Choice, a "between the tackles" runner to back up Marion Barber. A guy who idolized Emmitt Smith, Choice is a team player and a natural born leader. Choice does not have blazing speed, but runs with passion and heart, much like Emmitt and should spell Barber well in the upcoming years.
Orlando Scandrick – Cornerback, Boise State
One word came to mind after Orlando Scandrick's name was called. Steal. Scandrick ran the fastest 40-time for cornerbacks at the 2008 combine, but his stock took a nose-dive due to off the field issues. Never being known to shy away from speed and talent, the Cowboys rolled the dice on Scandrick in the fifth round with the intent of adding more depth to their secondary. Scandrick has all the tools to be a fine corner in the NFL. I believe the roll of the dice will pay big dividends for the Cowboys in the near future.
Erik Walden – Defensive End, Middle Tennessee State
Every year, Dallas seems to draft a guy in the lower rounds with the intent to develop him and polish his football skills. Erik Walden is this year's "project". Walden certainly looks the part of a 3-4 linebacker, and has the size and speed to play in the NFL. It will probably take a few years for him to develop into a contributor on defense, but he should help on special teams right away.
http://lonestarstruck.com/wp-content/uploads/2014/12/posts2.png
180
397
Derek Sanders
http://lonestarstruck.com/wp-content/uploads/2014/12/lonestarstruck.png
Derek Sanders
2008-06-16 20:53:32
2008-06-16 20:53:32
Draft Picks Should Be Immediate Contributors