In Plymouth, Minnesota, on June 10, 1983, Marion Barber III was born. I am sure when his parents named him, they had no idea his nick name would become "The Barbarian".
Barber was a Trojan at Wayzata High School, where he stood out in football, baseball and track. On the football team, he played both sides of the ball, including running back and defensive back. Barber's high school stats were pretty amazing. He rushed for 1,778 yards with 18 touchdowns as a running back, while pulling down 10 interceptions as a defensive back. He played center field in baseball, and in his one year in track, he ran a 10.9 in the 100m.  To say that he is a great all-around athlete would be an understatement.
If you know anyone that attended the University of Minnesota, just mentioning the name of Marion Barber would put a smile on their face. Both Marion Barber III as well as his father Marion Barber Jr., were star running backs for the Golden Gophers. Even Marion's little brother, Dominique, played for the Gopher's. Marion split backfield duties with current New England Patriots running back Laurence Maroney. They are both starters now, and they both averaged 4.5 yards a carry in 2007.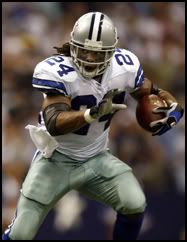 Marion decided to forgo his senior year at Minnesota, and the Cowboys selected him in the 4th round in the 2005 draft.  Barber's rookie year didn't get off to a good start.  His pre-season fumbles and also a toe injury, kept him at the bottom of the team's depth chart. Eventually, Marion's special team abilities and pass-blocking helped him to climb his way up the depth chart. 
In 2006, Barber established himself as the team's third down back and became a top notch red zone weapon, leading the NFC with 14 rushing touchdowns. Marion Barber was now a force to be reckoned with.
In the 2007 season, many Cowboy fans wanted Marion to start at tailback, but Coach Phillips named Julius Jones the starter instead. When he did play, Marion become a fan favorite by breaking tackles and he recorded the most broken tackles of any player in the 2007/2008 season. Finally, Barber played in his first game as a starter against the Giants. There was no looking back as he finished the season with 975 yards and 10 touchdowns despite splitting most of the season with Julius Jones. 
As all Cowboy fans know by now, Marion recently signed a seven year deal which should keep him a Dallas Cowboy for life, and that is just how his fans want it. I can't wait for the Barbarian to break it loose this season and for many season's to come.

http://lonestarstruck.com/wp-content/uploads/2014/12/GalaxyStars.png
180
397
Raina Middleton
http://lonestarstruck.com/wp-content/uploads/2014/12/lonestarstruck.png
Raina Middleton
2008-06-07 10:21:27
2008-06-07 10:21:27
Marion Barber: The Barbarian