When the Cowboys acquired Zach Thomas this off season, I knew we were getting a great player, but I also knew that his best days were behind him.
The seven-time Pro Bowler was a leader on and off the field with the Miami Dolphins, and I wondered if he would bring that leadership to the Cowboys. I was glad to see Zach return to his home state of Texas where he first gained his fame while earning All-American at Texas Tech.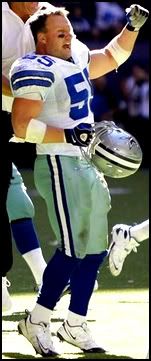 Since joining the Cowboys, Zach Thomas has been all that we could have hoped for and more. Not only does he lead the team with 55 tackles by a wide margin, but he may have struck a chord with his teammates before Sunday's game when he gave them a small pep talk.
Marcus Spears revealed what Thomas said,
"Zach stood up in front of the defense last week and gave us quotes about just going out and playing, and stop worrying about what's going to happen tomorrow or the next day. Just go out and perform the day you're out there."
What happened next?
The defense played their best game of the season and held Tampa Bay to a season-low nine points.
Thomas brings a remarkable work ethic to the team. He is a calming presence when things are going tough, but he is also smart enough to know his words can have an impact on so many of the younger players who look up to him.
I'm so glad Zach is a Cowboy.
http://lonestarstruck.com/wp-content/uploads/2014/12/posts2.png
180
397
Contributing Author
http://lonestarstruck.com/wp-content/uploads/2014/12/lonestarstruck.png
Contributing Author
2008-10-29 19:10:56
2008-10-29 19:10:56
Zach Thomas Leads With Words And Deeds