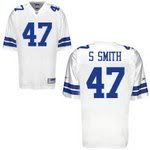 (2) Trade #51, #117 & #166 to 49ers for #43 and select
Sean Smith CB/FS
Utah
Solid depth in our secondary. Look this guy up. He has it all!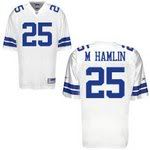 (3) 69.

Michael Hamlin
SS
Clemson
A tall hard hitting young safety to provide depth behind Sensabaugh.
(4) 101.

Scott McKillop

ILB
Pittsburgh
One of the nation's premiere linebackers. Should start out as the nickel linebacker and eventually work his way into the starting position at WILB.
(4) Trade #156, #197 & #227 to Titans for #130 and select
Curtis Taylor FS
LSU
LSU noticed no drop off in production when Curtis took over for LaRon Landry accumulating 41 tackles and two picks as a senior. Replaces an injury prone Patrick Watkins at Free Safety and competes with Courtney Brown to backup Ken Hamlin.
(5 comp.) 172.

Alex Boone

OT
Ohio State
All-Big Ten first team in '08. Had a drunken tirade issue in February, but Dr.Jerry should be able to get him back on track. Knocks Doug Free out of the rotation and on the trade block.
(6 comp.) 208.

Cullen Harper
QB
Clemson
There are a handful of QBs that could drop here, but I believe Cullen possesses the best set of skills for us to mold into a future QB. Thanks go out to Clemson coach Tommy Bowden for ruining Cullen's college career and allowing us to get him at this spot.
(7) 210.

Dallas Reynolds

C/OG/OT
BYU
I can't say enough good things about Dallas. His name rules, he has the most consecutive starts (37) and can play 4 positions on the O-line. No worries about the 2nd round tender given to Cory Procter.
Trade Cory Procter and Doug Free to Da Bears for a 2010 5th round pick
http://lonestarstruck.com/wp-content/uploads/2014/12/newsnotes.png
180
397
Nate Trumble
http://lonestarstruck.com/wp-content/uploads/2014/12/lonestarstruck.png
Nate Trumble
2009-03-26 16:00:00
2009-03-26 16:00:00
Mock Talk 3... Now With Trades