With the 2009 NFL Draft but a few days away, a fair share of uncertainty surrounds draft day for the Cowboys.  Without a first round pick this year, it will be interesting to see what kind of player the Cowboys can get with their second round pick.  The Cowboys have 11 picks this year, so look for them to do the wheeling and dealing that their drafts have become famous for.  The Cowboys have no glaring needs this year, so taking the "best player available" approach is an option that will definitely be laying on the War Room table come Saturday.  With that being said, here are a few names to be on the lookout for.
Jarron Gilbert – Defensive End, San Jose State
I first came across this guy's name while doing research on draft prospects in early 2009, and was quite impressed with what I saw.  At 6 foot 5, 288 pounds, Gilbert possesses the frame to play defensive end in the 3-4 scheme.  Not only does Gilbert have the rare build that 3-4 defenses covet, but he has the speed and athleticism to play the run effectively.  If anybody questions the athleticism of this young man, they need to watch the video on YouTube of him jumping out of a swimming pool.  Amazing.  If he's around when the Cowboys are on the clock in round two, look for them to strongly consider him.  Gilbert would provide instant depth and flexibility on an already talented defensive line.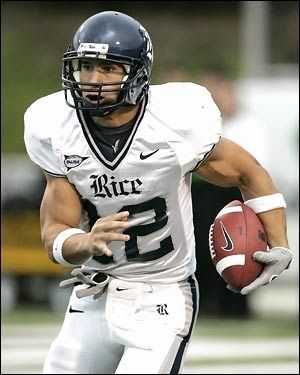 James Casey – Tight End, Rice
If ever there was a year that the Cowboys have no need whatsoever for a tight end, it's this year.  But the more information I unearth about James Casey, the more I understand why his services would tickle the fancy of the Cowboys, who brought him in for a final workout on Wednesday.  Casey's hands, skills, and build would project him to be an H-back of sorts, similar to Chris Cooley.  Though the Cowboys are loaded at tight end, drafting an H-back prospect wouldn't be such a bad idea due to the lack of a clear-cut #2 receiver.  A big athlete like Casey would give the Cowboys a weapon that could exploit the flats effectively and take additional pressure off of the receiving corps. 
Brian Robiskie – Wide Receiver, Ohio State
A great receiving class is one of the many headliners of this year's draft.  Players such as Michael Crabtree and Jeremy Maclin will certainly be off the board early in the first round.  But behind them are also some very talented receivers, and Brian Robiskie is definitely among them.  His father Terry Robiskie is an assistant coach for the Falcons and a former player.  One has to believe that Brian's football-oriented background would make his transition to the NFL that much easier.  He does not possess blazing speed, but has decent hands and runs terrific routes.  His 6 foot 3 frame also makes him an attractive potential addition to a Cowboys receiving corps that would welcome more help and competition. 
Zack Follett – Outside Linebacker, Cal
The departure of Kevin Burnett in free agency coupled with the minimal depth behind Demarcus Ware, Anthony Spencer, and Greg Ellis would indicate that adding a linebacker this weekend looks to be a must for the Cowboys.  With that being said, Zack Follett would be a great addition in the middle rounds.  Follett possesses size that is essential when playing linebacker in the 3-4 scheme.  But the most impressive thing about Follett has to be his play last season for the Golden Bears, where he had 23 tackles for loss, and 10.5 sacks.  His pass rushing skills and his ability to play the run would make him a great addition to the linebacking corps.
http://lonestarstruck.com/wp-content/uploads/2014/12/newsnotes.png
180
397
Derek Sanders
http://lonestarstruck.com/wp-content/uploads/2014/12/lonestarstruck.png
Derek Sanders
2009-04-23 22:15:02
2009-04-23 22:15:02
Interesting Draft on the Horizon for Cowboys