I've been away the last few days and haven't really had a chance to read up on what I thought would be a mountain of excitement from Cowboys fans in the blogosphere, and man, was I surprised.
Does anybody realize that the Cowboys clinched a playoff berth on Sunday night, or has the reality of that situation not sunk in yet?
Last week, one of my co-writers on this site (Michelle G.) penned an excellent piece on her take on being a fan, and in response there were several supporting and opposing comments from our wonderful readers. That was one thing, but this is strictly another… Where's all the Silver and Blue?
Why is everyone so quiet?
Is it because your confidence in the team to succeed is so low that you are afraid to embrace the post season?
Are you having nightmares centering around bobbled snaps, overthrown passes, and blown coverages?
It's bad enough that when compared to the rest of the NFL, we have the most quiet stadium in the game despite crowds numbering over 75,000. Maybe that's because so many of those who attend are from the corporate side and are there thanks to all the major companies' who buy blocks of tickets numbering in the thousands to attract clients and keep employees happy. But right now, I'm wondering where the die hard fans are and why they've been as quiet as a nest of church mice.
Being from New York, I guess I became so accustomed to the throngs of screaming and cheering fans who make their presence felt in every game. A win is always a good cause for millions to celebrate that night at bars, clubs and living rooms across the entire state. Clinching a playoff spot sends fans into a sheer frenzy with a fever pitch that would leave non sports fans in the street wondering what the hell just happened. There would be dancing in the streets even though nothing has been techinically won yet, and if they do win it all? Then watch out… because all of America can then watch it on their high definition TV's, as that is all you'll see for the next few days on ESPN and Fox Sports.
Regardless, I am celebrating this latest Cowboys victory the only way I know how… LOUD and PROUD!
I don't know about you guys, but I have been on Cloud Nine since the Dallas Cowboys shutdown the Washington! Nothing has been able to wipe away my smile yet. I tell everyone who is willing to listen about our 'Boys and how freaking proud I am of them!
I am so pumped up for the season finale that only Armageddon could keep me from watching every exciting second of the game. I'm treating it like a holiday… a second New Years celebration… meals, snacks and beverages have to be planned… make sure the noise makers and party hats are in good supply… We're finally going to get our revenge against those damned forsaken Eagles!
And then after that game, the next stop will be round one of the NFL Playoffs!
As Frank Barone would say… HOLY CRAP!
Lets Go Cowboys! And just as importantly, Lets Go Cowboys Fans!!!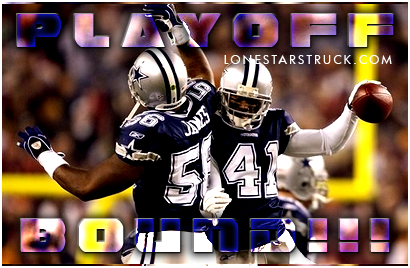 http://lonestarstruck.com/wp-content/uploads/2014/12/posts4.png
180
397
Contributing Author
http://lonestarstruck.com/wp-content/uploads/2014/12/lonestarstruck.png
Contributing Author
2009-12-29 12:03:08
2009-12-29 12:03:08
In Case You Missed It, The Cowboys Clinched A Playoff Spot