Over the next few weeks leading up to the draft, I will put together a Cowboys Draft Series covering prospects and positions that I feel the Cowboys will be most interested in come the first round on April 22. The main factors for choosing the prospects to watch include the Cowboys' position in the draft and players that fit their schemes on offense and defense. This week I will focus on the wide receiver position. There are many potential prospects that the Cowboys will likely be interested in, especially in this year's fairly deep receiver class. Here are a few names to put on your list.
Jordan Shipley – Texas, 5'11" 193
Jordan Shipley is a name that is tangled up somewhere in the top 10 of the receiver prospects list. One of the best receivers in recent Texas Longhorns history, and easily the most prolific punt returner in the team's history, Shipley is a guy who could probably play slot receiver immediately, as well as return kicks and punts. He may not be the biggest or or the fastest, but he has the work ethic that coaches love. He is a high character player and someone you want in your locker room. It's hard to say exactly where Shipley will go in the draft, but I would imagine the Cowboys will have him targeted anywhere from rounds 2 through 4. Some people have compared him to Wes Welker, and I would not immediately disagree. As a lifelong Texas Longhorns fan, I would love to see Shipley in a Cowboys uniform.
Golden Tate – Notre Dame, 5'10" 199
Tate is another guy who's name has been seen all over the top 10 receivers prospect list. Living 45 minutes from Notre Dame's campus, I was able to witness Golden Tate's surprising athletic ability last season. He has extremely soft hands and the open-field moves of a running back. He also possesses great speed and the ability to catch the ball in a tight window. He also had the benefit of being in a pro style offense at Notre Dame and that should help him at the next level. Like Shipley, Tate is probably a slot guy who could provide you with explosiveness on special teams. I would not anticipate Tate making it past the second round and if he is still on the board when the Cowboys select in the late second round, this could be their guy.
Marty Gilyard – Cincinnati, 6'0″ 187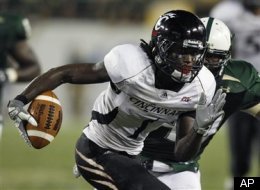 Gilyard is another receiver that is cut in the mold of Tate and Shipley. A bit smallish, but someone who could flourish in the slot and possibly even on the outside. Has all the quickness and athletic ability that you look for, and like Tate and Shipley again, is extremely hard to tackle in the open field. Could take over the punt and kick returning duties immediately and provide a much needed spark. Another high character player who you would love to have on your team. He will probably go somewhere between the late second to mid-third rounds, and just like the previous two receivers, Dallas will have their eye on him.
Jacoby Ford – Clemson, 5'9″ 186
Ford is a guy who did not have near the amount of production that Shipley, Tate, or Gilyard had at the college level. But his official 4.28 40-yard dash time at the combine suggests that he possesses the speed to be a game breaker. Probably more of a slot guy who you would design certain packages for to try to get him the ball in open space. Could most certainly be a terror in the return game if he fine tunes his return skills. Reminds me of someone like Roscoe Parrish of the Buffalo Bills or Eddie Royal of the Denver Broncos; someone who can take it to the house at any time in the return game and contributes fairly to the receiving game as a speed threat. Ford's draft stock will probably go up after his blazing 40 time, but he could be available as late as the 4th round. If he stays on the board that long, I would look for Dallas to trade up to grab him.
Demaryius Thomas – Georgia Tech, 6'3″ 224
Thomas is a player who posted stellar numbers in 2009 for a Yellow Jackets offense that was very run oriented. He has a huge frame that reminds you of Terrell Owens and the speed to go with it. His frame enables him to shield defenders and go up and get the catch. There is some uncertainty surrounding Thomas, as he just recently broke his foot and will be unable to participate in the combine or his pro day. His raw talent and upside makes him one of the biggest gambles in the draft, and he is likely to be a boom or bust player. He is probably a solid second round pick and Dallas may take a look at him if he is still sitting on the board in the late second round.
http://lonestarstruck.com/wp-content/uploads/2014/12/posts4.png
180
397
Derek Sanders
http://lonestarstruck.com/wp-content/uploads/2014/12/lonestarstruck.png
Derek Sanders
2010-03-02 17:51:01
2010-03-02 17:51:01
Cowboys Draft Series: Wide Receiver