The Dallas Cowboys are extremely lucky to have three great running backs. I think its safe to say that each of these players could easily be starters for any other team, but the Cowboys choose to use them as a three-headed monster.
Marion Barber – Barber was drafted by the Cowboys in the fourth round of the 2005 NFL Draft. During the 2007 season, Barber's power running back style earned him the nickname Marion the Barbarian and he was the league leader in breaking tackles, reflecting his personal mantra of "hit or get hit." Barber rushed for 975 yards on 204 carries and 10 rushing touchdowns with a 4.8 yards-per-carry rushing average. He caught 44 passes for 282 yards and two touchdowns. On December 18, 2007, he was named to his first Pro Bowl despite officially being a backup. On May 20, 2008, he signed a seven-year deal, $45 million with the Cowboys with $16 million guaranteed. The emergence of Tashard Choice and Felix Jones, and injury problems limited his success during the 2009 season. However, he played in 13 games despite a torn quadricep muscle.
Felix Jones – Jones was drafted by the Cowboys 22nd overall in the 2008 NFL Draft. He has developed the nickname of Felix "The Cat" Jones for his quick movements and speed. He signed a professional contract on July 26 for $10.53 million, with $7.67 million guaranteed, including a $3.57 million signing bonus. On 15 September 2008, during a Monday Night Football game versus the Philadelphia Eagles, Jones returned a kickoff 98 yards for a touchdown in the first quarter.  In his 3rd NFL game, Jones ran for a 60-yard touchdown against the Green Bay Packers on September 21, 2008. In Week 6, in the game against the Arizona Cardinals, Jones injured his left hamstring and would be out for the rest of the year due to a torn ligament suffered during rehab of that injury. In his second season in the NFL Jones has received more carries per game than his rookie year, despite being one of three running backs used in the Cowboys offense.  Offensive coordinator Jason Garrett has slowly been giving him more rushing attempts. Jones believes that "Patience is a virtue. You need it. You need to have patience. Just wait, your time is coming."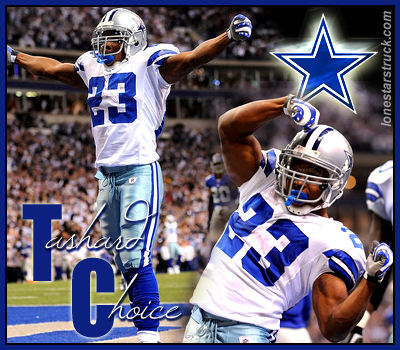 Tashard Choice – Choice was selected in the fourth round of the 2008 NFL Draft by the Dallas Cowboys. His first career carry came in the season opener against the Cleveland Browns, where he had 5 carries for 26 yards. He was used primarily on special teams during his rookie season. After injuries to Marion Barber and Felix Jones, Choice had his largest workload of the year against the Pittsburgh Steelers, who had the league's best rushing defense. Choice amassed 23 carries for 88 yards, and caught 5 passes for 78 yards. The following week against the New York Giants, Choice scored his first career touchdown. He finished his rookie campaign with 472 yards rushing, 185 yards receiving, and 2 touchdowns. In 2009, Choice began the season behind Marion Barber and Felix Jones on the depth chart, but injuries gave Choice more playing time in week 3 against the Carolina Panthers. Choice had 18 carries for 82 yards and one touchdown in a Dallas win. Choice was used by the Dallas Cowboys mostly in what they called the Razorback formation, a variation of the Wildcat offense. Choice finished the season with 349 yards rushing, 132 yards receiving, and 3 touchdowns.
Bio source – wikipedia.com
http://lonestarstruck.com/wp-content/uploads/2014/12/art4.png
180
397
Kelly Irvin
http://lonestarstruck.com/wp-content/uploads/2014/12/lonestarstruck.png
Kelly Irvin
2010-08-27 08:37:53
2010-08-27 08:37:53
The Infamous Three-Headed Monster