As we say our goodbyes to Patrick Crayton, lets reflect on his tenure with the Dallas Cowboys and some of his career highlights.
Crayton attended Northwestern Oklahoma State University where he was a quarterback during his senior year and a wide receiver in his previous three seasons.
In four years, he amassed 5,688 all-purpose yards, including 3,718 yards in total offense and 46 touchdowns, setting several NWOSU records including throwing 19 touchdowns as quarterback.
He was drafted by Dallas in the seventh round of the 2004 NFL Draft.
2004 – Received more playing time than initially expected due to injuries and had a few shining moments that got the coaching staff's attention.
2005 – Feeling they had themselves an emerging star, the Cowboys cut Quincy Morgan opening up more playing time for Crayton. He didn't disappoint. In his first game he had six receptions for 89 yards and one touchdown. However, he sustained a broken ankle a few games later and he never recovered.
2006 – Coming back from a serious injury, Crayton recorded his first 100-yard game while filling in for an injured Terry Glenn. Bill Parcells would later say that Crayton has the best hands on the team. Crayton dived into the endzone for big touchdown in the wildcard playoff game which the Cowboys ultimately lose to the Seattle Seahawks.
2007 – Crayton is now the number two wide receiver and the Cowboys signed him to a four-year contract extension worth $14 million. He rewarded them with a 697 yard, 7 touch down season.
2008 – Crayton only started seven games after being replaced by Roy Williams in week five. He still finished with 39 passes for 550 yards and four touchdowns. He also got plenty of playing time on special teams returning 15 punt returns for 143 yards.
2009 – Starting just six games this season, he caught 37 passes for 622 yards and sets a career high with a 16.8 yards per catch average. He also hauls in a career long 80 yard touch down reception. On special teams he scored his first punt return touchdown and would finish with 36 punt returns for 437 yards and 2 TDs, second best in the league.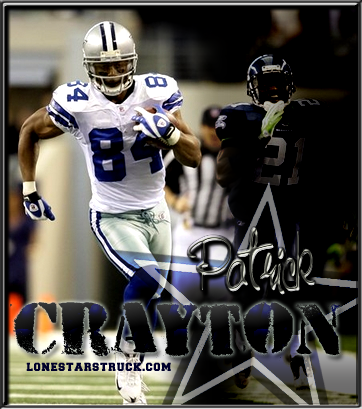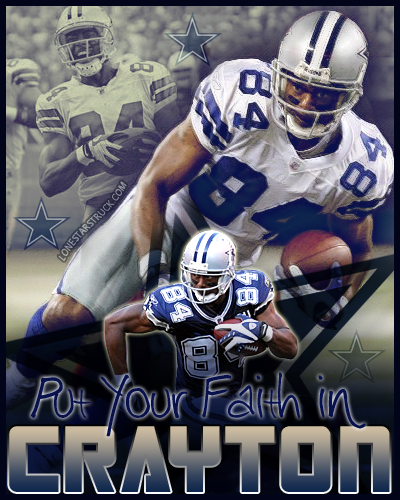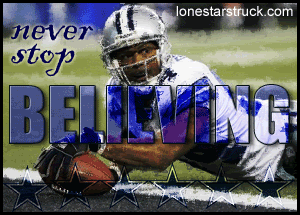 http://lonestarstruck.com/wp-content/uploads/2014/12/thoughts2.png
180
397
Kelly Irvin
http://lonestarstruck.com/wp-content/uploads/2014/12/lonestarstruck.png
Kelly Irvin
2010-09-04 11:11:52
2010-09-04 11:11:52
A Final Farewell to Patrick Crayton