Believe me I'm just as angry as you are. Being passionate, die-hard fans we have that right.
As I read comments and statuses around the web on Facebook and Twitter some people are threatening to jump ship. I just want to remind you all that we are Cowboys fans. We need to stand by this team through everything. They played horrible, they have so many issues its hard to list them all, but at the end of the day this is our team. Respect that.
Its going to be a long week and we are going to hear a lot of negativity. Be prepared. Keep wearing the star, and wear it proud.
GO COWBOYS!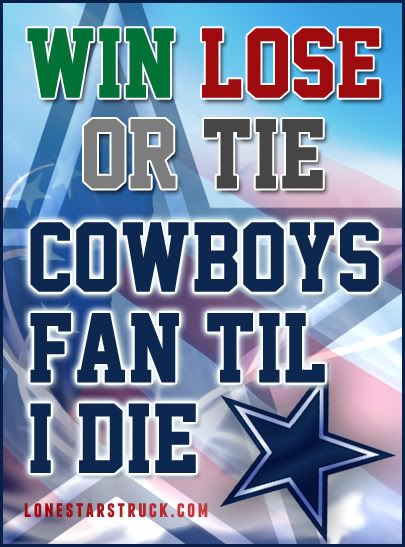 http://lonestarstruck.com/wp-content/uploads/2014/12/art2.png
180
397
Kelly Irvin
http://lonestarstruck.com/wp-content/uploads/2014/12/lonestarstruck.png
Kelly Irvin
2010-10-10 21:44:44
2010-10-10 21:44:44
Some Days It Ain't Easy Being a Cowboys Fan