I just want to get one thing straight, I am not blind to the fact that our Dallas Cowboys are the worst team in the NFC.
However, that blatant fact is not going to stop me from screaming, "Go Cowboys!" and getting just as emotional during the game as if we were the best in the conference.
As explained in my previous post, I am not sugar coating America's Team any longer but I am still a 100% die hard supporter of the team in Blue and Silver.
At this point in the season we as fans have earned the right to complain, criticize, and do whatever else makes us feel better. Most of us have watched every game and believed in our hearts we would come out winners. This insane losing streak doesn't have us doubting our loyalty, but only our team's ability to get things done.
When someone walks up to me and asks me, "Whats wrong with the Cowboys?", believe me they get an earful and like my sister the other day, most likely more than they expected (LOL).
We don't have all the answers, and clearly neither does the current Cowboys coaching staff, but we definitely offer our opinions. I can tell you what I think is wrong and what needs to be changed but you don't want to read that right now. You want to watch a football game, a great football game.
You want to watch a team that's ranked 16 out of 16 in the standings terrorize a team that's ranked number three. You want to see the defense working on all cylinders and attacking an offense that never stops fighting, losing only two games this season both in overtime. You want to see an offense use all of its weapons and break out some new plays, hush the crowd and bring home a win.
I can't promise you will see any of those things, but I can promise you that I am going into this game optimistically with 100% dedication and support. We can only hope that the Dallas Cowboys who take the field in Green Bay tonight do the same.
This is not a guaranteed win for Green Bay or a guaranteed loss for Dallas. This is a prime example of why we play the games. We need a motivated, disciplined team to come into Lambeau Field and honor the star on their helmets. Fight for that win! Lets see that talent that everyone keeps claiming we are loaded with. Forget that you are 1-6 and the world is against you, play like we know you can and you will be winners.
GO COWBOYS!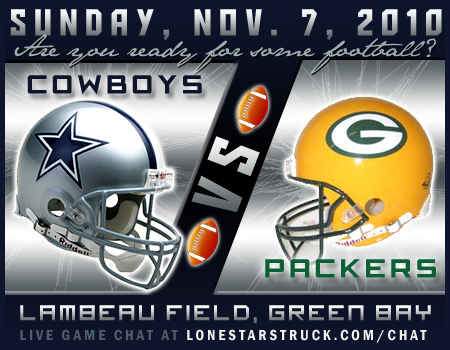 http://lonestarstruck.com/wp-content/uploads/2014/12/art2.png
180
397
Kelly Irvin
http://lonestarstruck.com/wp-content/uploads/2014/12/lonestarstruck.png
Kelly Irvin
2010-11-07 12:46:10
2010-11-07 12:46:10
It's Nov. 7th, Do You Know Where Your Football Team Is?