With the 2011 NFL Draft now less than 30 hours away, it's not difficult to envision Jerry Jones, a proverbial riverboat gambler on draft day, posted up in the "War Room" putting the last minute touches on the team's big board.  Jones has to be as excited as ever for this year's draft, with the abundance of studs available across the board at Dallas' three biggest position needs (defensive back, offensive line, defensive line).  Couple that with the fact that the Cowboys are in prime position to move around and make some deals at the #9 draft slot, and countless scenarios immediately become plausible.  So, with the impending madness right around the corner, here is a "mock draft" of sorts to get the pre-draft excitement flowing.
Round 1, Pick 9
To me, there are three different scenarios that could take place when the Cowboys go on the clock at #9, largely depending on what players are still left on the board at that point.
The first and most simple scenario is the Cowboys standing pat at #9 and taking the best player available.  Two players that immediately come to mind for the Cowboys at #9 are tackle Tyron Smith and cornerback Prince Amukamara.  Either player would immediately fill major needs for the Boys, and would be expected to contribute from day one.  In an unexpected turn of events, defensive lineman Nick Fairley could fall to Dallas at #9, in which case they would have to seriously consider calling his name
as well.
The second and least likely scenario is that the Cowboys move up several spots to take a player that has fallen farther than expected.  The most likely situation in which this scenario would occur in my mind would be Patrick Peterson falling to the San Francisco 49ers' slot at #7.  If Peterson drops that far, I think it would be impossible for Jerry to not envision trading up to nab another playmaker like he did for Dez Bryant last year.
The third, and in my opinion, most likely scenario, is the Cowboys finding a trade partner at #9 and moving down several spots into the teens.  Jerry has made it no secret that he has been in touch with several teams about moving into Dallas' #9 slot.  The most likely trade partner for the Cowboys is the St. Louis Rams.  The Rams covet Julio Jones, and it is highly unlikely that he makes it past the Washington Redskins at #10.  In this scenario, the Cowboys would acquire St. Louis's #15 pick, likely an additional 2nd, and a 4th or a 5th round pick.  At #15, it is hard to envision the Cowboys not taking an offensive lineman.  They could still get the tackle they covet in Tyron Smith at #15, and I also think that guard Mike Pouncey would garner serious consideration here as well.  In the event that the Cowboys decide against taking an offensive linemen at #15, defensive ends J.J. Watt and Cameron Jordan would seem to be legitimate picks as well.
Summary of scenarios
Stand pat at #9

Prince Amukamara
Tyron Smith

Trade up from #9
Trade down from #9

Tyron Smith
Mike Pouncey
J.J. Watt
Cameron Jordan
Round 2, Pick 40
This selection for the Cowboys will probably be more simple and less complicated than round one.  Depending on which of the three major needs (DB, OL, DL) they decide to address in the first round, Dallas will likely address one of the two remaining major needs in round two.  This could also prove to be an exciting pick due to the fact that it is impossible to know which players with first round grades will slip into the second round.  Two players that could fall out of the first round that would be absolute steals in the second round are cornerback Jimmy Smith and defensive lineman Cameron Heyward.  Other players that will be targeted by the Cowboys in the second round are: Ras-I Dowling, Brandon Harris, Muhammad Wilkerson, Aaron Williams, Rahim Moore, and Martez Wilson.
Potential Picks
Jimmy Smith – Cornerback, Colorado
Ras-I Dowling – Cornerback, Virginia
Brandon Harris – Cornerback, Miami
Cameron Heyward – Defensive End, Ohio State
Muhammad Wilkerson – Defensive End, Temple
Aaron Williams – Safety, Texas
Rahim Moore – Safety, UCLA
Martez Wilson – Inside Linebacker, Illinois
Round 3, Pick 71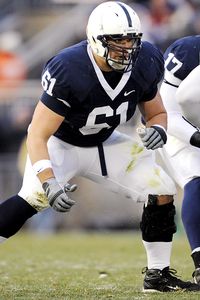 Like round two, the Cowboys' selection in round three will likely be the last of their three major needs (DB, OL, DL).  Other players and positions could come into player however, depending on which players have dropped farther than where they were originally projected to go.  Because of the potential of higher rated players still being available in round three, the Cowboys could call the name of a player who previously may not have been on the radar.  My favorite potential pick here is Penn State guard/center Stefen Wisniewski. With an NFL pedigree, Wisniewski would bring youth and versatility to an aging interior line who's skills are quickly diminishing.
Potential Picks
Stefen Wisniewski – Guard/Center, Penn State
Phil Taylor – Noseguard, Baylor
Christian Ballard – Defensive End, Iowa
Rodney Hudson – Guard/Center, Florida State
Marcus Cannon – Guard, TCU
Quinton Carter – Safety, Oklahoma
Round 4, Pick 110
With the top three picks hopefully addressing the top three needs of the Cowboys, value and potential starts to become the focus in round four.  As we've seen in the past few years, the Cowboys have hit on several key players in round four (Bradie James, Marion Barber, Chris Canty, Doug Free, and Tashard Choice).  This year should be no different, with the Cowboys attempting to draft a player with good value and skill with pick #110.  One player that I like with this pick is Oklahoma State running back Kendall Hunter.  While running back is not an immediate need, there is no telling what the future of Marion Barber is once player transactions resume.  In the case that he is traded or released, running back depth becomes an immediate need.  Hunter was highly productive in college and would provide fantastic value at pick #110.
Potential Picks
Kendall Hunter – Running Back, Oklahoma State
Kelvin Sheppard – Inside Linebacker, LSU
Quan Sturdivant – Inside Linebacker, North Carolina
Nate Irving – Inside Linebacker, North Carolina State
Edmund Gates – Wide Receiver, Abilene Christian
Round 5, Pick 143
Value and depth are the main focus in the later rounds, with every team looking to unearth gems and raw talent that could develop into potential starters.  Small school prospects and special teams contributors tend to go in these rounds, as well as players who's stock has fallen significantly due to bad combine workouts, injury, or character. One name that I love here is Stanford fullback Owen Marecic.  Marecic is just the kind of player Jason Garrett covets; a four year college player, high character, intelligent, versatile (played fullback and linebacker), and able to contribute immediately on special teams.
Potential Picks
Owen Marecic – Fullback, Stanford
Brandon Fusco – Guard/Center, Slippery Rock
Ian Williams – Defensive Tackle, Notre Dame
Cedric Thornton – Defensive Tackle, Southern Arkansas
Joseph Barksdale – Guard, LSU
John Moffitt – Guard, Wisconsin
Jeremy Kerley – Wide Receiver, TCU
Round 6, Pick 176
Round 7, Pick 220
Round 7, Pick 252
No telling what kind of strategy, if any, exists in the last two rounds.  Dallas will likely be looking for players that will provide depth at positions like offensive line and raw talent that could develop into contributors several years down the road.  These are also the rounds in which hometown prospects are drafted as well.
Potential Picks
Stevan Ridley – Running Back, LSU
George Salas – Wide Receiver, Hawaii
Kyle Hix – Tackle, Texas
Jake Kirkpatrick – Center, TCU
Wayne Daniels – Defensive End, TCU
Greg Lloyd – Inside Linebacker, UConn
Will Hill – Safety, Florida
http://lonestarstruck.com/wp-content/uploads/2014/12/thoughts3.png
180
397
Derek Sanders
http://lonestarstruck.com/wp-content/uploads/2014/12/lonestarstruck.png
Derek Sanders
2011-04-27 16:19:00
2011-04-27 16:19:00
Cornucopia of Scenarios on the Table for Boys as Draft Looms