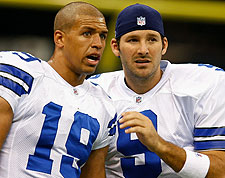 The Cowboys' 2011 draft is now behind us, but must Cowboys fans know that some of the greatest rookies in recent memory were undrafted and that the Cowboys have always been able to spot and sign those overlooked diamonds in the rough.
Rob Phillips of dallascowboys.com, reminded me of how remarkably successful Jerry Jones and company have been over the years at surveying the unsigned rookie landscape and how big it's paid off for them time and time again.
The names "Tony Romo" and "Miles Austin" are proof enough. No other NFL team has two multi-time Pro Bowlers – Romo in 2003, Austin in 2006 – who slipped all the way past the "Mr. Irrelevant" pick.

Recruiting them to Dallas were separate home runs. But in recent years the Cowboys have also hit solid singles and doubles in post-draft free agency. Nine others finished the 2010 season on the roster: Safeties Barry Church and Danny McCray (2010), cornerback Bryan McCann, fullback Chris Gronkowski (2010), guard/center Phil Costa, wide receivers Teddy Williams (2010), Kevin Ogletree (2009) and Sam Hurd (2006), and defensive end Stephen Bowen (2006).

Hurd and Bowen have been dependable backups for five seasons – last year Hurd served as special teams captain and Bowen started eight games for an injured Marcus Spears. Church and McCray became fixtures on Joe DeCamillis' special teams units. McCann's two touchdowns (an interception return and a punt return) helped Jason Garrett win his first two games as interim head coach last November.
Of course it's not easy to try and find the next impact player from among the also-rans, but we've proven on many occasions it can be done and well worth the effort.  As Phillips says, the league is filled with plenty of guys who beat the odds after 250 others heard their name called by the commissioner.
The only sad part in all of this is this damned lockout which still persists and makes negotiating a mute point.
But one thing the Cowboys do have going for them is their brand name. If given the choice, what rookie wouldn't want to play for America's Team? We have a marquee brand. It's an advantage many other teams don't have and sometimes it's all the edge we need.
http://lonestarstruck.com/wp-content/uploads/2014/12/thoughts4.png
180
397
Contributing Author
http://lonestarstruck.com/wp-content/uploads/2014/12/lonestarstruck.png
Contributing Author
2011-05-12 09:30:27
2011-05-12 09:30:27
Cowboys Work Is Not Done, There's Still Some Hidden Gems To Uncover