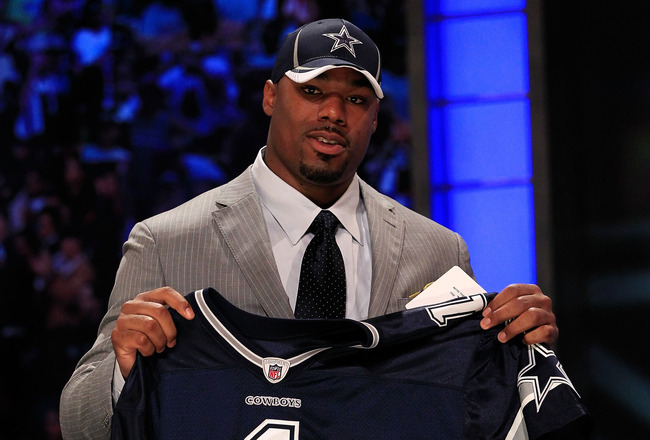 By now, every Cowboys fan knows that the team selected offensive lineman Tyron Smith with their 1st round draft pick earlier this year, but did you know that it had been 30 years since the last time the Cowboys drafted that position with their first round pick? It's true, the Dallas Cowboys selected offensive lineman Howard Richards with their first round selection 1981. That was the year that we were all was introduced to Indiana Jones and "Raiders of the Lost Ark" topped the box-office.
Whenever I write something about the newest Cowboy, Tyron Smith, I'm tempted to type in all caps because he is such a monster when it comes to his size!  The young tackle out of Southern California checks in at 6'5  and weighs 307 pounds.  Tryon's hands were each measured at 11 inches.  The former USC star acknowledges his size as one of his main assets:
" My strength is my size," I intimidate other guys because I'm big and I'm working on getting bigger. I want to work on my footwork. Since I'm so big, sometimes I get off balance." 
Tyron was born December 12, 1990 in Moreno Valley California. He attended Rancho Verde High School where he played offensive and defensive line.  He earned numerous honors.  Even as a kid, Rivals.com listed him as the #1 offensive tackle prospect in the nation.  They nailed it on this one.
The analysis from USC pro-day reported that his pass blocking is his best trait,  saying he's quick off the snap and can catch and turn his opponent away from the play. His athleticism enables him to explode out of the gate and make down-field blocks.
In his last season at USC, the Trojans allowed only 18 sacks, and averaged 189 yards per game in 2010, both were conference bests.
At Pro-day he ran the 40 yard dash in 4.91 and just as impressive for his size was his broad jump at 9-1 and his vertical at 29 inches. The ground must have shook when he landed. 🙂
Smith is very comfortable blocking in an open space.  He can sink his hips to counter the bull-rush. He moves his feet well to shadow quicker speed rushers. 
It's no wonder Smith was by far the number one offensive tackle in the draft – nobody else even came close. Romo must have been doing cartwheels on Draft Day! (Don't strain yourself Tony!) 
Blessed with the prototype combination of size, balance and agility, he has the potential to develop into a top-flight left tackle in the NFL. He emerged as a standout in the Pac-10, winning the Morris Trophy as the conference's top offensive lineman as voted by the league's defensive linemen.
Among his weaknesses (hey, nobody's perfect!) some experts say he needs to develop his football instincts, so that he won't easily be baited by stunts. He must also key in on recognizing the blitz.  Right now, they seem to think he can be beat by speed to power  rushing moves.  But with that said, let me add that the Cowboys defense is known for their speed, so working against them in camp will help him improve on defending against a speed/rush offense. (It's all good!)
Here are some highlights…
Smith was the country's highest-ranked offensive linemen. 
Smith made a huge impact in his two seasons as the Trojans starting offensive tackle, before declaring early for the 2011 draft.
Consensus All-Pac 10 first-team choice, named the Trojans' Offensive Lineman of the Year
The only player in the Pac-10 Conference to register 100 knockdowns for the season, receiving first-team all-league honors.
Smith had thirteen touchdown-resulting blocks and allowed only one quarterback sack in his final season. He had 23 blocks for touchdowns in his two years as starter.
Tyron was the recipient of the Pac-10 Morris Award, given to the league's top lineman.
After watching video of him, and with Coach Ryan coming in, it will be interesting to see if the coaching staff can help him with his football IQ and quickly get Smith up to speed and make the improvements that will make him a starter. I believe they will.
There's a lot to like here!
http://lonestarstruck.com/wp-content/uploads/2014/12/NewSilverBlue.png
180
397
Raina Middleton
http://lonestarstruck.com/wp-content/uploads/2014/12/lonestarstruck.png
Raina Middleton
2011-07-22 09:39:52
2011-07-22 09:39:52
New To The Silver & Blue: Tyron Smith - OT