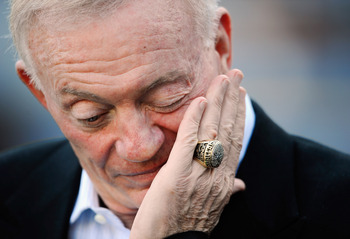 Anybody who knows me personally, understand my outlook on football and baseball; GO FOR THE KILL NO MATTER THE SCORE!
My buddies and I also refer to it as PLAYING FOR BLOOD!
I have long killed the Cowboys for this basic lack of KILLER instinct. For the better part of the decade this ultimate level of competitiveness has been widely unseen. And that explains all the late game and late season collapses. Only The Strong Survive!
Color me shocked when I read owner Jerry Jones comments after another heartbreaking loss on Sunday.
First of all, this is what he said from the owners box when the Cowboys punted the ball back to the Patriots with more than 3 minutes left on the clock.
"They're gonna get at least a field goal," Jones grumbled in his luxury suite after the Cowboys, clinging to a three-point lead with less than three minutes remaining, punted the ball back to the Pats following three consecutive running plays. "We'll be lucky to get to overtime."
I grumbled EXACTLY the same words, and of course the inevitable happened leading Jones to say this:
"When you get in a situation like that, you've got to go for the kill.  I felt like we could've been more aggressive. Our defense had been good all day, but you knew Brady had a length-of-the-field drive in him – so it didn't surprise me at all when he took them down at the end."
Wow, is Jerry Jones finally coming around and to his senses? Did he really say we had to go for the kill? I guess Hell has freezed over – now if only he could preach that message to Tony Romo and the rest of the team.
Go For The Kill Cowboys! Don't Just Say It – DO IT!
http://lonestarstruck.com/wp-content/uploads/2014/12/newsnotes.png
180
397
Contributing Author
http://lonestarstruck.com/wp-content/uploads/2014/12/lonestarstruck.png
Contributing Author
2011-10-17 13:24:38
2011-10-17 13:24:38
Going For The Kill