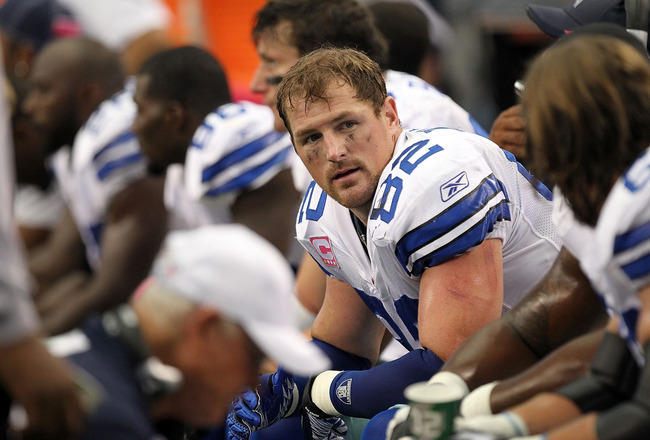 After a much needed bye-week to lick their wounds and contemplate their collapse against the Lions, the Dallas Cowboys have returned to practice and are saying they are healthier than they were at the start of this season.
It looks like cornerback Orlando Scandrick returned to practice and will most likely play on Sunday against the New England Patriots. We hadn't heard from him since he sprained his ankle during the season opener. Scandrick's return means that the Cowboys will have all their top cornerbacks, Scandrick, Mike Jenkins and Terence Newman, on the field together for the first time this season.
The receiving corps will also get a big boost as both Miles Austin (hamstring) and Dez Bryant (quad) are feeling good and will also play on Sunday.
Will any of this translate into a win on Sunday?
I still can't the last game out of my mind… I hope the players did, they are paid to focus on the here and now and put the past behind them, that's not so easy for diehard fans to do.
All we have to judge this team by is a 2-2 record that could have easily been 0-4 if not for a couple of late game comebacks. But the sad part is they could have likewise been sitting at 4-0 if they had simply shown some more heart and grit and toughness, especially mental toughness.
Too often this team simply mails it in and no matter how big their early lead, they find away to let their opponents back in the game and all over their faces.
They make dumb mistakes… They fold like a bad hand in poker far too easily… They run out of gas before the game runs out of minutes… They are always out of sync…
Will a healthier team change anything?
Jason Garrett complimented his team on Monday for battling through some of the injuries. I'd rather seem them get complimented for battling on the field.
"I think it's important to recharge your battery and get away from it a little bit," Garrett said.
That's nice, Garrett… Real nice… Word of advice…
If you don't get your act together starting this Sunday against the Pats, and if you don't start executing on the field and improving this teams performance on both sides of the ball… You'll have another 36 weeks to recharge your batteries come Winter… Only this time, fans won't be as forgiving as they were last offseason.
http://lonestarstruck.com/wp-content/uploads/2014/12/thoughts4.png
180
397
Contributing Author
http://lonestarstruck.com/wp-content/uploads/2014/12/lonestarstruck.png
Contributing Author
2011-10-11 13:15:27
2011-10-11 13:15:27
Ready And Willing, Yes, But Able?