Linebacker Zack Thomas is back in Texas after he was released by the Miami Dolphins on Valentines Day. Zach was just one of the many released by Bill Parcells as he makes massive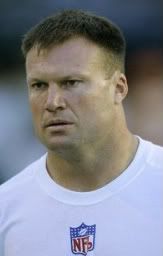 changes in the sunshine state. The Dolphins drafted Thomas in 1996 in the 5th round. The 7 time Pro Bowler had been a work horse in their defense for 12 years. He has recorded over 1,800 tackles in his career.

Thomas is 1 of 3 players to record 100 or more tackles in each of his first ten seasons in the NFL. Thomas is currently ranking 4th all time in tackles behind Randy Gradishar, Jesse Tuggle and Junior Seau. He has more tackles than any linebacker in the Pro Football Hall of Fame.

For those who are thinking about his age, I started looking into what he did the last couple of years. In September Oliver Hoyte, who was let go to make room on the roster, coincidentally gave Thomas a concussion which led him to miss most of the season because of migraines and concussions. Playing only five games he was able to rack up 52 total tackles. In 2006 his total tackles were consistent with years past with 165. Through the years his stats have remained the same.

Born a Texan, Zach played his college career at Texas Tech where he was a three year starter as linebacker. Thomas has won numerous awards during both his college and professional career.

After receiving contract offers from New Orleans and New England he made the decision to move home to Texas and become a Dallas Cowboy.

http://lonestarstruck.com/wp-content/uploads/2014/12/GalaxyStars.png
180
397
Raina Middleton
http://lonestarstruck.com/wp-content/uploads/2014/12/lonestarstruck.png
Raina Middleton
2008-03-14 12:40:38
2008-03-14 12:40:38
Zach Thomas: The Newest Star