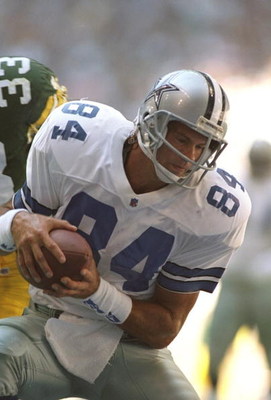 One of my favorite all-time Cowboys, Jay Novacek first made a name for himself playing tight end for the University of Wyoming. He was selected to the All-American football team in 1984 after setting an NCAA record for receiving yards per receptions by a tight end. He had a team record 83 career receptions for 1,536 yards and 10 touchdowns during his college career. Novacek also competed in track and field and earned All-American in the decathlon and pole vault.
 
He was originally drafted by the St. Louis Cardinals in 1985, but would later join the Dallas Cowboys in 1990. Some thought he was a hired gun and for a while the name stuck. He was known for his hard-nosed style of play and his athleticism. Novacek was a hard hitter and a tremendous blocker, but it was his pass catching ability that fans will remember the most.
 
He was one of the best tight ends ever to wear a Dallas Cowboys uniform, and was one of the key players on a Cowboys team that went on to win three Super Bowls in 1992, 1993 and 1995. In those three games alone, he posted a combined total of 17 catches for 148 yards and two touchdowns.
 
Jay Novacek's remarkable pass catching and route running abilities gave him a total of 422 receptions for 4,620 yards and 30 touchdowns during his NFL career.
He was selected to five pro bowls and while he may not have had a long career with the Cowboys, he made each of his six seasons count, and was one of the best tight ends in the league throughout his Cowboys career.
In 2008, Jay was inducted into the College Football Hall of Fame for his achievements as a top collegiate player. 
In February of 2010,  he suffered a great tragedy when he came home to find his wife LeeAnne had taken her own life and committed suicide. He now spends his time working with children and running a youth football camp at the University of North Texas every summer.
To me, he will always be one of the all-time great Cowboys and a big reason for our glory years in the 1990s. One day I hope to see his name among the other greats in the Cowboys Ring of Honor.
http://lonestarstruck.com/wp-content/uploads/2014/12/Legends2.png
180
397
Contributing Author
http://lonestarstruck.com/wp-content/uploads/2014/12/lonestarstruck.png
Contributing Author
2011-04-30 11:08:38
2011-04-30 11:08:38
84 Jay Novacek - Tight End - 1990-1996