This version of The 2011 Cowboys Mock Draft has Jerry wheelin' and dealin' as usual, only this time, he comes out smelling like roses. Yeah, I know. Completely unrealistic already. Well, read it anyway and see what ya think. I used my usual rankings at: http://www.cbssports.com/nfl/draft/prospectrankings however, this time I looked around to see what other teams could be doing as opposed to going strictly by the rankings. Trade values are standard and can be checked here: http://walterfootball.com/draftchart.php
Remember this is just for fun and maybe we can all learn a little about some of the athletes entering the league.
*Note* The first number represents the round of the draft and the number after the decimal represents the overall number of the pick.
Now on to the draft!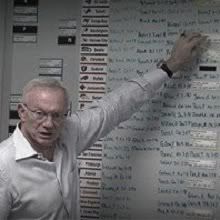 1.9 **TRADE TO ST. LOUIS** St. Louis selects Julio Jones WR Alabama
St. Louis sees AJ Green go too early to make a realistic move. Trading up to #9, where their second choice, Jones, is still available makes perfect sense for a young team in need of a play-making wide receiver. Dallas makes it interesting by trading picks 1.9, 3.71 and 6.176 for The Ram's 1.14, 2.47, 4.112 and 7.216. St. Louis now owns picks 1.9, 3.71, 3.78, 5.145 and 6.176.
1.14 **TRADE TO SAN DIEGO!!!** San Diego selects Cameron Jordan DE Cal OR JJ Watt DE Wisconsin.
Both New England and San Diego inquired about pick #9 but both decided it to be too costly. Again, at 14, Dallas fields offers and San Diego comes out on top, while still having picks in the first three rounds. Dallas trades 1.14 for The Charger's 1.18, 3.82 and 6.183. San Diego now owns picks 1.14, 2.50, 2.61, 3.89, 6.201 and 7.234.
1.18 Anthony Castonzo OT Boston College

Castonzo and/or Tyron Smith could be gone by pick 18 with a handful of teams considering taking an OT higher than they should. I'm betting on Smith being the first one taken, despite worries that he might not be ready to start right away. Dallas scouts watched Castonzo's career religiously at Boston College. He, like Smith, is believed to be able to play either right or left tackle in the NFL. Having that versatility is a good thing on a line that is in rebuilding mode in Dallas. Gabe Carimi has been my favorite of this class to play right tackle, however he hasn't been invited to the ranch and there is shockingly no buzz about him to Dallas what so ever. I would also consider Mike Pouncey C/OG Florida with this pick if both tackles are gone.
2.40 Rahim Moore FS UCLA

Some believe he will be gone by our pick at 40. I don't think he is a high second rounder in any other draft year other than a year like this where the crop is extremely underwhelming in talent. Moore had a breakout year in '09 where he picked off a whopping 10 passes, then went back to a pedestrian 1 in '10. A safety should not be judged on interceptions alone, but we are in the market for a play maker. I hope we get the '09 version or more of the same could be in our future. I am not a fan of this year's safety class, but drafting one can not be ignored yet again.
2.47 Stefen Wisniewski C/OG Penn State

If I didn't make a mock with the "WIZ", my mock draft buddies would kill me. He is a fan favorite of Dallas mockers world-wide. Like Owen Marecic (whom we will talk about shortly) , Stefen represents everything you would want from a football player and just so happens to be a strong need at both guard positions as well as center, where the majority of experts project him to excel at the NFL level. With Davis' skills rapidly declining, Kosier still unsigned and Gurode's degenerative knee problems, this is a perfect pick to upgrade the o-line. Like I said earlier with the first pick, if Smith and Castonzo are gone at pick 18 and Dallas selects OG Mike Pouncey, this pick could be an OT such as Marcus Cannon from TCU.
3.82 Marcus Gilchrist CB/KR/PR Clemson

Dallas' secondary problems are well documented and help is needed across the board. Gilchrist is a versatile corner who also excels at kick and punt returning. Marcus has 207 tackles, four tackles for loss, a sack, an interception, 19 pass breakups, three caused fumbles, two recovered fumbles, 722 yards on 27 kickoff returns, and 261 yards on 27 punt returns in 52 games (27 starts) in his career at Clemson. At the very least, he should assume Alan Ball's #4 corner spot behind Orlando Scandrick, (who is in a contract year) helping us with youth and CAP relief during his first year in Dallas.
4.110 Ian Williams DT Notre Dame

I traded up for Ian in my last mock to pick #127 and I believe with a premium at NT in this draft, he could go even higher. Ian had a pre-combine visit with Dallas and is a prime candidate to rotate with Josh Price-Brent, allowing Ratliff to make his long awaited move to Igor Olshansy's position at RDE. (freeing Igor's $3.335 million salary) I know Rob Ryan said Ratliff is and will be a DT, but he didn't say in what packages. Ratliff could be a DE in the base 3-4 package and a DT in others. I think Ryan is smart enough to put his best players on the field and having options is nice.
4.112 Kelvin Sheppard ILB LSU

Bradie James will love this pick. Although he will be Bradie's eventual replacement, Sheppard is an LSU alum as is James. The similarities don't stop there. Bradie was taken in the fourth round of the 2003 draft. The joke would be that Bradie will always be 9 players better than Kelvin. (Bradie at 103, Kelvin at 112) I'll be happy if he's just a solid contributor. His speed and reliable open-field tackling also made the former high-school track star a standout on special teams.
5.143 Owen Marecic FB Stanford

Only because this is such a strong FB class do I believe it is possible to still get Marecic at pick 143. The emergence of Charles Clay, Stanley Havili and Henry Hynoski should let one drop to Dallas here and improve at a very weak position. Marecic is exactly the type of player I want on this roster. He puts his head down and works hard. This is the extreme value pick of this draft. To boot, anyone opposed to taking a FB should look at the undrafted player responsible for ending the seasons, because of missed blocks, for both Romo and Bryant in 2010.
6.183 Stevan Ridley RB LSU

Ridley recently visited the ranch and it looks like the brass are ready to move on from MBIII and his lopsided contract. The growing belief throughout the league is that you can find good running backs in the later rounds and a high pick on one isn't a necessity anymore. A bruising back to compliment Felix and Tashard should be relatively easy to achieve with this pick and it's funny how Stevan is currently rated #183 overall and here we are at that exact pick. Fate? We'll see…
7.216 Justin Boren OG Ohio State

"Not since World War II has a football player done what Justin Boren did in 2008. After two seasons at Michigan, Boren transferred to Ohio State, crossing enemy lines in the Big Ten's most storied rivalry. Displeased with new Michigan coach Rich Rodriguez's attitude and, in his words, "lack of values" and seemed to have difficulty adjusting to the physical demands of Rodriguez's new no-huddle spread offense. Boren has been known to play with the nasty demeanor offensive line coaches like and was a welcome addition to an OSU line having some protection problems prior to his arrival. But while his decision to transfer alone does not raise character concerns, he must still answer questions about the way he handled himself after making that decision. He is a likely late-round pick for a team that appreciates his strength and competitive attitude." – CBS Sports.com overview
7.220 Willie Smith OT East Carolina

The Cowboys need depth at LT and Willie should make a smooth transition having played the position the past two years in East Carolina. Like most late round prospects, he first needs to make the team. Next he needs to develop into an NFL caliber player with our elite coaches, (oline and strength and conditioning) and finally most college scouts don't believe it would be unreasonable to think Smith could be a starter in 2-3 years. He could be a late round steal much like Jay Ratliff, who was selected 224th overall in the 2005 draft.
7.252 Bruce Miller OLB UCF

Brandon Williams needs to prove he's not just another 2009 draft bust. Bruce Miller could be the competition he needs to finally get over the hump. Demarcus Ware believes in him, we just haven't seen anything yet. Competition at spots such as OLB will be the key to our future strength.
One of these days, a CBA will be hammered out, the owners and players will kiss and make up and free agency will happen. When that day comes, the priority should be resigning our own players first, especially if the restricted tenders don't stick. Free, Kosier, Bowen and Hatcher should be top priority. While this is being hammered out, word should get to Dawan Landry's agent that Dallas isn't committed to Gerald Sensebaugh and are looking to upgrade the position. A feeler is all it should take to get Baltimore to make their modest offer.
"Citing the Ravens' history at strong safety, the Baltimore Sun does not expect free agent Dawan Landry to be re-signed this year. The Ravens have twice let the starter opposite Ed Reed walk (Will Demps, Jim Leonhard), turning the position over to in-house replacements. If Landry gets to the bidding-war stage, the team will have no qualms about pushing Tom Zbikowski or Haruki Nakamura into the starting lineup."
Dallas could realistically sign Landry to a 3 year $12 million contract with 8 million guaranteed and steal him away from the Ravens. IMO totally worth it and much more cost effective than previously drafting the top strong safety to start and signing a free agent free safety that would want a very large contract. (Huff, Weddle) We recently went that route with a questionable player (Ken Hamlin) and it didn't work out so well. Hopefully, Jerry plays this smart and learns his lesson.
See you all on the annual draft day chat right here on Lone Star Struck, where we are all sure to to laugh, cry and thoroughly debate personnel decisions in the comfort of our own "War Rooms"…Happy Draft Day Everyone!!! It's almost here!
http://lonestarstruck.com/wp-content/uploads/2014/12/thoughts4.png
180
397
Nate Trumble
http://lonestarstruck.com/wp-content/uploads/2014/12/lonestarstruck.png
Nate Trumble
2011-04-11 08:00:26
2011-04-11 08:00:26
Final Mock Draft of 2011