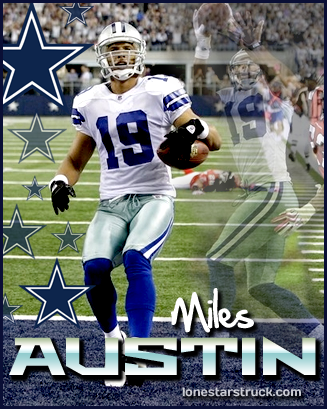 Miles Austin definitely stole the spotlight on Sunday. He did more than his share, helping the Cowboys trounce the Falcons.
However, one thing is really bugging me. I've heard people say he's the new Michael Irvin, I even read an article claiming he is T.O. with smile.
Give Miles Austin his credit for what he has worked hard to accomplish. There is not much about Miles that reminds me of Irvin or Owens. In fact, not to belittle either of those superstars, but Austin did something they never did… and he did it as a #2 receiver. He currently holds the franchise record for receiving yards in a single game. Of course Irvin and Owens hold their own franchise records. Which essentially proves my point even further.
I know people are just excited and happy about the win and the hope that Austin brings for the Cowboys and I love it! I love when the fans get pumped up and enthusiastic.
I'm sure Miles would feel honored to be compared to such great professional players, but I'd also bet he would be the first to tell you he is nothing like them.
Forget the three different personalities and egos, their playing styles are nothing alike. Not to mention, you may be getting a little bit ahead of yourselves.
There's nothing wrong with being compared to the likeness of football greats, so maybe I am overreacting.
Either way great work Miles keep it up, we are very proud of you!
Oh yeah, and for the record I never got into the whole "The New Triplets" thing with Romo, Owens and Barber a few years ago. We need to make new memories and dynasties. Embrace the past and learn from it, but don't try to recreate it, it never works out right.
http://lonestarstruck.com/wp-content/uploads/2014/12/posts4.png
180
397
Kelly Irvin
http://lonestarstruck.com/wp-content/uploads/2014/12/lonestarstruck.png
Kelly Irvin
2009-10-27 08:00:04
2009-10-27 08:00:04
Let's Enjoy Austin Without All the Comparisons