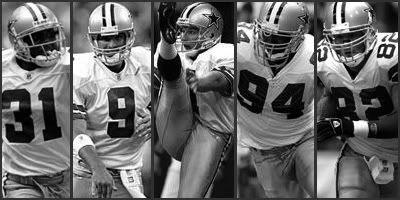 I'm looking forward to seeing five Cowboys in the Pro Bowl this year. Since I really have no interest in this years Super Bowl, the Pro Bowl will give me my last football fix this season. Its a long way til August and pre-season. However, the offseason at the Ranch will be pretty interesting this time.
These 'Boys are the five that most deserve this honor. Roy Williams and Jason Witten have been to the Pro Bowl before. Mat McBriar, Tony Romo and DeMarcus Ware are all making thier first appearance.
Some people think it was a knock on T.O. when the NFL didn't select him to the Pro Bowl. But I think the Pro Bowl should not only reflect the stats but the man behind them. I think it should be a all-around "professional". There were some things that he did this past year that would contradict that and I'm sure thats why he wasn't selected.
Congratulations to the five Cowboys who will be heading to Hawaii on Feb. 10th.
http://lonestarstruck.com/wp-content/uploads/2014/12/posts3.png
180
397
Kelly Irvin
http://lonestarstruck.com/wp-content/uploads/2014/12/lonestarstruck.png
Kelly Irvin
2007-01-29 22:21:37
2007-01-29 22:21:37
Boys Will Be Pros