I just wanted to share some tidbits I found while browsing Cowboys news. Not much is going on but Jerry Jones did share some of his thoughts on some positions and players.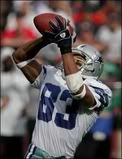 Jerry Jones said he is confident that Terry Glenn will be a factor next year. He admitted he hadn't talked to Glenn but from what he understood from other inside sources, Glenn is going to play without surgery and will be ready to go.
There is concern about injury in the position after what happened with Glenn and Owens in the postseason. Behind those two veteran players are Patrick Crayton, Sam Hurd, Miles Austin and Isaiah Stanback for starters. The Cowboys have some nice up-and-coming players but what happens if or when your older veterans get injured? Good question…
Jones also talked about the possibility that Flozell Adams may not be with the Cowboys next year. He said a deal could still be made but in the case that he leaves, Leonard Davis could start at left tackle.
Despite his tendencies to rack up false start penalties, Flozell was a great part of Tony Romo's success. Covering Romo's blind side is a huge job that Flozell handled very well. Davis played right guard and was also elected to the Pro Bowl in that position, so if he moves to LT we in turn lose a Pro Bowl right guard. I think we need to try and keep Flozell if at all possible.
http://lonestarstruck.com/wp-content/uploads/2014/12/posts.png
180
397
Kelly Irvin
http://lonestarstruck.com/wp-content/uploads/2014/12/lonestarstruck.png
Kelly Irvin
2008-02-25 19:33:57
2008-02-25 19:33:57
Player News: Offensive Concerns